Ovulation Calculator removes the guess work by predicting exactly when you're ovulating
In fact, women who use our predictions get pregnant in 58 days vs the national average of 180 days
Get Started
Why use Ovulation Calculator?

Women who rely on our predictive intelligence to calculate their ovulation day get pregnant on average in 58 days. That's 123 days faster than the national average.

How it works?

Our proprietary predictive intelligence works with your information and our science driven algorithms to accurately calculate when you are ovulating. Once you know this, you can get the timing right.

Did you know?

Even on your most fertile day, you only have a 35% chance of getting pregnant. Knowing when you're in your fertile window is more critical than ever.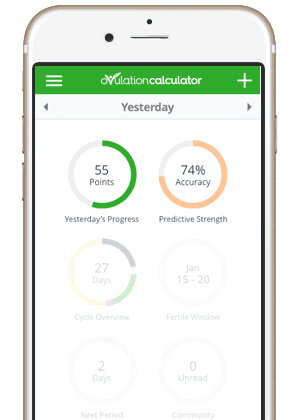 Some of Our Reviews
I felt like I had a doctor guiding me personally every step of the way. I'm pregnant and feel like I owe a huge part of the success to Ovulation Calculator's predictions. Thanks a million!!
Review of OvulationCalculator.com
by Amber on
April 17, 2016
Just found out I'm pregnant after 3 cycles. The other ovulation websites missed my fertile window completely. thank you ovulation calculator.
Review of OvulationCalculator.com
by Susan on
April 19, 2016
It's been amazing
Review of OvulationCalculator.com
by Ashlee Woods on
April 16, 2016
Get Started
Knowledge is Power
Increase your fertility awareness and optimize your chances of getting pregnant faster
As Featured In