Ovulation Calculator
The complete fertility system
Get started by learning your ovulation date
Why use Ovulation Calculator?

Women who rely on our predictive intelligence to calculate their ovulation day get pregnant on average in 58 days. That's 123 days faster than the national average.

How it works?

Our proprietary predictive intelligence works with your information and our science driven algorithms to accurately calculate when you are ovulating. Once you know this, you can get the timing right.

Did you know?

Even on your most fertile day, you only have a 35% chance of getting pregnant. Knowing when you're in your fertile window is more critical than ever.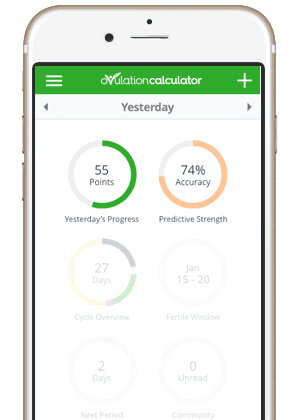 Some reviews from reviews.io
Timely notifications. Learned many more things bcz of ovulation calculator. It helps to identify the day of ovulation and much more. Thanks..*
Review of OvulationCalculator.com
by Carolina on
October 13, 2017
Helped me keep better track of ovulation times, and helped me pay more attention to the signs my body gave during and before ovulation.*
Review of OvulationCalculator.com
by Ashley on
October 17, 2017
After using for two months, I'm pregnant. The information learned from this app has helped me tremendously.*
Review of OvulationCalculator.com
by Michelle on
October 03, 2017
*Disclaimer - Individual results may vary from person to person
Why use an Ovulation Calculator?
Our Ovulation Calculator quickly works out when you are ovulating during your fertile window. Ovulation is when the egg is released from your ovary and can only be fertilized in the smallest of windows each cycle.
We do the Accurate Calculating for You!
The general rule of thumb of when you're ovulating is your average cycle length (start of one period to the day before the next period) minus your luteal phase (the phase after ovulation until the day before your next period). Ovulation happens before the luteal phase, so if most women have a luteal phase of 14 days, they ovulate 15 days before their next period.
Varying Factors
However, there are many varying factors which can affect ovulation, for instance;
Hormonal Imbalance
Conditions
Period Length Variations
Cycle Length Variations
Sleep Patterns
Stress
Nutrition
Age
Confused Already?
I would be. This is why you need to use our Ovulation Calculator. Our system accurately predicts when you are ovulating by taking into consideration the hundreds of variables alongside all of your own personal information.
We call this "Predictive Intelligence" and it will determine when you're most fertile as well as letting you know the best two days to have sex for conception.
How to Know When You're Ovulating Naturally
We recently wrote an extensive piece on "How To Know When You're Ovulating Naturally" through the 12 signs and symptoms your body gives you each cycle. Some are more noticeable than others so we strongly suggest you read this to give you the best chance of understanding your body.
Fact is; Knowing when you ovulate is only one part of what you need to know. You need to know when the two best days to have sex are during your fertile window. This is the key to increasing the chances of getting pregnant. Find your two best days out now
What's the benefit of tracking your cycle?
In a recent survey, only 31% of respondents knew when they ovulated. I guess, it's something we don't think about, or worry ourselves about until we are ready to start conceiving. The challenge with this though, is that it can put us back a few months. Understanding your menstrual cycle and your body will significantly increase your odds of conception.
For instance, women who have irregular cycles find it more difficult to get pregnant than those who have regular cycles. If you have irregular cycles, it's a good idea to seek further help about how you can regulate them. Our bodies love routine.
By tracking your cycle and understanding your body's patterns and indicators (like cervical mucus and your cervix position) you will most likely be able to predict ovulation by yourself giving you greater control.
Take control of your fertility and use Ovulation Calculator to make accurate predictions of when you are ovulating!
Knowledge is Power
Increase your fertility awareness and optimize your chances of getting pregnant faster
As Featured In
Think You Know Fertility?
Test your knowledge by taking our 15 question quiz
Take Quiz