About Us
We're Ovulation Calculator, we make thousands of women pregnant. In the last 30 days we had 2,940 women join us, with 188,230 pregnancies recorded after using our accurate prediction intelligence.
My Open Letter to You
Getting pregnant is a journey, something I understand first hand - Founder, Phil Druce
My wife and I were unable to conceive naturally after a year of trying. It was frustrating. My friends around me were getting pregnant but we weren't, despite our best efforts. Our journey to pregnancy was an emotional rollercoaster. It turned out, that no matter how much trying we did, we required medical intervention. We could have known this sooner had a tool like Ovulation Calculator existed. Today, I proudly let you know, I have two beautiful girls (twins) who enrich my life daily, in ways I didn't know were possible.
This is why I have spent so much time building Ovulation Calculator (formerly Ovulation Calendar) with my team, I wanted to create a tool and resource which could help couples throughout the world get pregnant naturally. See, 1 in 6 healthy couples struggle to get pregnant and around half of these occasions is due to the male partner. Getting pregnant however, could be as simple as getting the timing right. And, this is where Ovulation Calculator helps. An egg is released once each cycle (ovulation) and can be fertilised within only a 12-24 hour window. We accurately predict when you're ovulating and by knowing this, you significantly increase your chances of getting pregnant.
Ovulation Calculator asks you for a lot of data, personal, lifestyle and menstrual cycle data. We do this to boost the accuracy of the predictions. The more information you can give us, the more accurate your predictions will be. It's that simple.
The information you provide also helps other couples trying to conceive. All your data is kept anonymous but we cross check all the data across all our users to identify patterns to increase our predictions further. On behalf of all our users, I thank you for this.
Thank you for using Ovulation Calculator, I wish you great success on your journey to pregnancy.
If you want to reach out I am available to answer any questions you may have or if you simply want to say hi, email me at Phil.Druce at OvulationCalculator.com
Phil Druce, Founder of Ovulation Calculator
How We're Different
Our application tailors itself to the user. We privately and securely learn our users' cycles, their health and lifestyle in order to provide the most bespoke system available.
Our Prompts, Alerts, Feedback and Articles provide "must have" information throughout the stages of trying to conceive; giving our valued users the perfect information, exactly when they need it.
Ovulation Calculator's Mission
Our mission is to provide the world's most accurate fertility prediction system which is unparalleled to any other service available, Helping couples all over the world to conceive faster.
With a growing team acquiring a strong, high skill base we are persistently working to create the system even more accurate, robust and secure for our users; to see our current team you can visit the "Meet the Team" section.
If you need a comment for your story, an opinion on fertility or want to find out more about what we do, please Contact Us.
Meet the Team

Philip Druce
Ovulation Calculator Founder
View in Community
Philip is a proud father of twin girls and is passionate about helping others have their own children. Philip leads the Engineering and Product Development for Ovulation Calculator. He brings over 10 years experience in online operations, product development and analyzing data.

Dr Zeenobiyah McGowan
Zeenobiyah is a mother of one beautiful girl. Zeenobiyah is passionate about women's health and helping couples conceive naturally.
Zeenobiyah has also founded Impact Humanity, a charity which helps under privileged children get the basic necessities like food and education in Kenya.

Robin Elise Weiss - PhDc, MPH, CD(DONA), LCCE
Ovulation Calculator Author & Fertility Expert
Robin is the About.com Expert to Pregnancy and a mother of eight children. She is a childbirth and postpartum educator, certified doula, doula trainer, and lactation counsellor. Among her many books are The Complete Illustrated Pregnancy Companion, About.com Guide to Having a Baby, The Everything Pregnancy Fitness Book, and The Everything Getting Pregnant Book.

Jonathan Stones
Front End Developer & Web / App Designer
View in Community
Jonathan is our Creative Producer; he has a First-Class Honours Degree in Graphic Communication that has a focus on Web Development. With a former career as a Teacher he now brings his Design & Development skills here to build a user experience that is simple, consistent, and functional.

Josh Domagala
Back End Developer
Josh has a bachelor's degree in computer science and studied software & electrical engineering. He found his niche in web development and brings a decade's worth of Web Development and Mobile App Development experience to Ovulation Calculator.

Austin Nein
Back End Developer
Austin has a B.S. in Computer Science and is one of our software engineers. He has extensive knowledge in web applications and database systems; Prior to Ovulation Calculator Austin worked at Yahoo! Inc as one of their software engineers.
Chaithat Sukra
iOS App Developer
Champ has a Bachelor's Degree in Engineering majoring in Computer & Networking - he has been pushing boundaries in mobile app development since 2011 for both iOS and Android.

Sarah Druce
Fertility Researcher & Support
View in Community
Sarah is a Mum of twins and has experience in working with young children. Sarah is our office administrator and one of our fertility researchers. She supports the team with our many ongoing projects.
Meet the Authors
Funding & Grants
Ovulation Calculator is committed to the advancement of reproductive health and fertility.
We provide funding and grants up to $5,000 USD
If your research requires funding and would like to apply for a grant, please submit your request by emailing us on grants [at] ovulationcalculator.com
When Contacting Us
Please clearly outline your research topic and the reason you wish to undertake the research. Detail specifically how much funding you require as well as how you will use it. Due to the number of requests we receive, please keep your submission concise.
Press & Media Resources
Here you have access to different formats of our logo / imagery in a convenient downloadable folder. These resources are available for your use (without modification) when referring to Ovulation Calculator - You can also contact us here.
Press Resources: Imagery
These images are available in full size for both print and online use; The download contains all three images in a zip folder.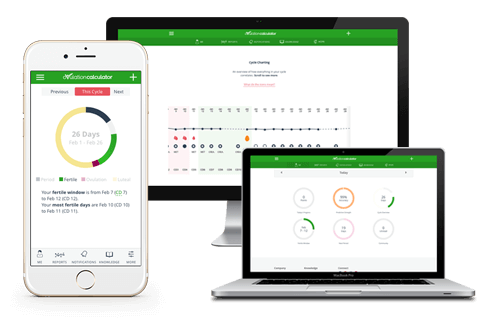 Download All Imagery

Download Logos
Social Media